Meet The Team
Chase Cejka
Chase is one of the co-owners and full time operator of American Brothers in Arms. Chase grew up in Correctionville Iowa and attended River Valley High School before enlisting. He has been enlisted with the United States Army since 2008, he served with the 34th Infantry Division Iowa National Guard in various units and is currently serving in the United States Army Reserve. He was deployed in 2010 with the 34th ID and served in Afghanistan where he performed combat patrols and supply runs. Chase has always had a love for firearms and constantly is striving to learn about the what is coming to the market and what the past is already proven. Smith & Wesson firearms hold a special place in his heart and he competes in United States Practical Shooting (USPSA) and International Defensive Pistol Association (IDPA) with a Akai Custom 1911 in 40 S&W.
Brad Cejka
Brad is the other half of American Brothers in Arms, he is our behind the scenes guy that makes sure things can run smoothly and all our paperwork is up to snuff. Brad served in the Iowa National Guard as a Active Guard Reserve (AGR) as a supply sergeant and as a training NCO for 13 years, but now works full time for himself at South Sioux Self Storage. Brad enlisted in 2001. He has two tours with the 34th Infantry Division Iowa National Guard to Afghanistan. He has severed with the Field Artillery as a Forward Observer and Cannon Crewmember. He also has been stationed with the Iowa National Guard in Lima OH guarding the M1A Abrams Tank Plant. Brad is a avid shooter and also has a passion for Powered Paragliding. Keep your eyes to the sky in the Siouxland region and you might see Brad and Chase high above.
Joe Brockelsby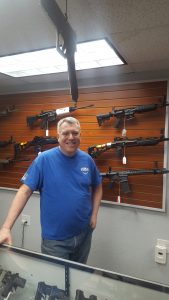 Joe is the shop's resident "old guy". He has been with American Brothers In Arms from the start. He is a fan of the FNH USA and Sig Sauer pistol lines, and competes in United States Practical Shooting Association with both pistols. He also enjoys shooting IDPA and Trap. With a life long passion of guns Joe is a extremely knowledgeable and is more than willing to share his knowledge.
Nicholas Lucart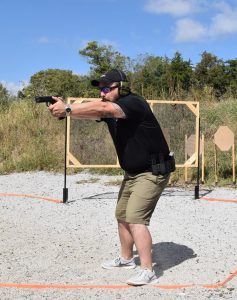 Nicholas Lucart (Mr. Springfield) was born and raised in Sioux City Iowa. Nic graduated from Sioux City West High School in 2002 and from there pursued his dream of becoming a professional Chef. Nic received his degree in Culinary Arts from the Kirkwood Culinary Academy in Cedar Rapids. He has worked in kitchens since the age of 13 and has held every position in that time frame, from dishwasher to Executive Chef. Nic left being a Chef in the restaurant world in 2009 and switched the focus of his career to contract management and consulting with healthcare organizations. He is now a Director with one of the largest hospitality consulting firms in the country. Nic has been a lifelong firearms enthusiast and when he is not on conference calls or pouring over spreadsheets he can be found at the shop, the range or at home with his wife and two sons. Nic is constantly expanding his firearms knowledge and is a big fan of Springfield and CZ pistols along with Noveske rifles. He is also an avid competitor in both USPSA and IDPA pistol leagues.
Zachary Daniels
Zach Daniels (Little Buddy) is from the Siouxland area and has been living here for the better half of his life. Zach grew up around firearms and served in the United States Marine Corps for four years and was stationed in Hawaii with Third Battalion Third Marines as an infantryman. Zach went on two UDP's to Australia, Japan and abroad. When Zach got home in 2016, he began to pursue his dream of being in law enforcement. After spending six months as a Deputy Sheriff, he resigned to pursue an education and is currently attending Western Iowa Tech and is majoring in Emergency Medical Services. Zach now is a full time member of South Sioux City Fire Department. On top of working at the shop for almost a year, Zach is always striving to better himself and his community.
Justin Dean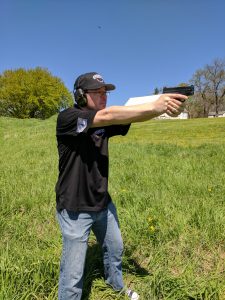 Born in Albuquerque, New Mexico, Justin Dean moved to Iowa in 1996. Justin graduated from Alta High School in Alta, Iowa in 2000 and attended Morningside College for 4 years and majored in Graphic Design. Justin had lived in Sioux City since 2009 and is currently a Senior Graphic Designer for a local screen printer. When Justin is not at work or at the shop, he enjoys target shooting rifles, pistols, and trapshooting.
Benjamin Ebmeier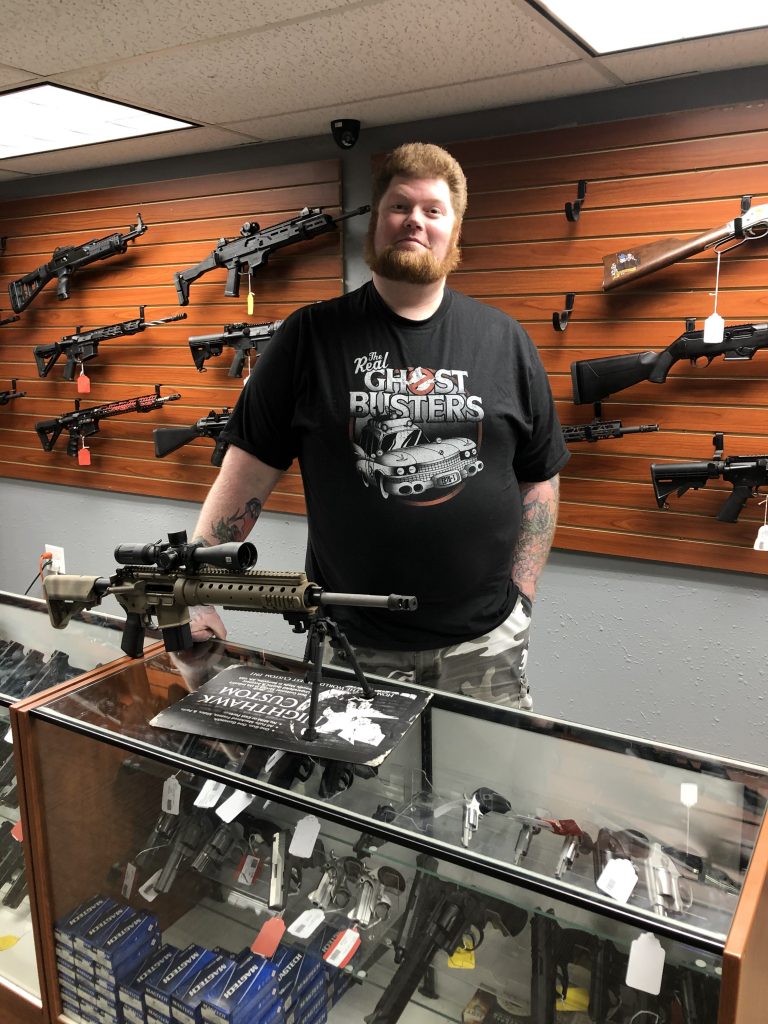 Benjamin Ebmeier has had a life long passion for tattoo's and firearms. A life long resident of Sioux City Iowa. He started tattooing in 2001 and opened his own shop in 2012. Been has been part of American Brothers In Arms from day one. Everything from helping with the remodel of the store, selling firearms and accessories, to setting up and running the booth at gun shows. Ben also has been applying cerakote for the past 3 years. Ben enjoys building and shooting Modern Sporting rifles and his favorite brand of rifle is Daniel Defense. Ben also has a large knowledge of old military service rifles and pistols.
Kris "Brock" Brockelsby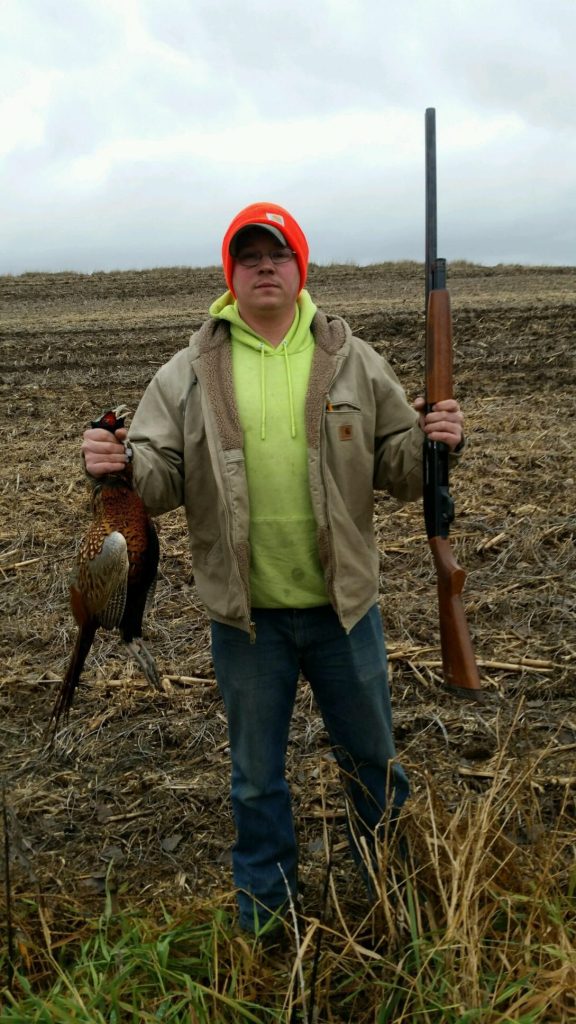 Kris Brockelsby served in Afghanistan with Chase and Brad Cejka in 2010 – 2011 with the 34th ID. Kris has been in the Iowa Army National Guard for 12 years and is still serving with the 34th ID. He is an avid hunter, he primarily enjoys small game and upland hunting. Kris provides a great deal of knowledge to our staff for all of our hunting customers. Kris was a fundamental part of the shop getting off the ground helping Chase and Brad come up with a game plan will serving in Afghanistan. Kris became and armory in the Iowa National Guard in 2016 and is using the National Guard to further his knowledge for the his work at the shop.
Lief Jetton
Living in and around Iowa his entire life, Lief graduated HS from West Monona in Onawa, Iowa in 2013 and ended up attending Western Iowa Technical Institute in Sioux City, where he acquired an Associates of Applied Sciences Degree with focus in Automotive Collision Repair. He is currently a Collision Repair Technician / Painter at a Body Shop in Sioux City known for outstanding work. Lief is known to the shop as the resident Long Range / Tactical rifle expert. In his free time he enjoys shooting PRS style matches, Shooting Tactical Carbines, and calling in Coyotes in the dark.